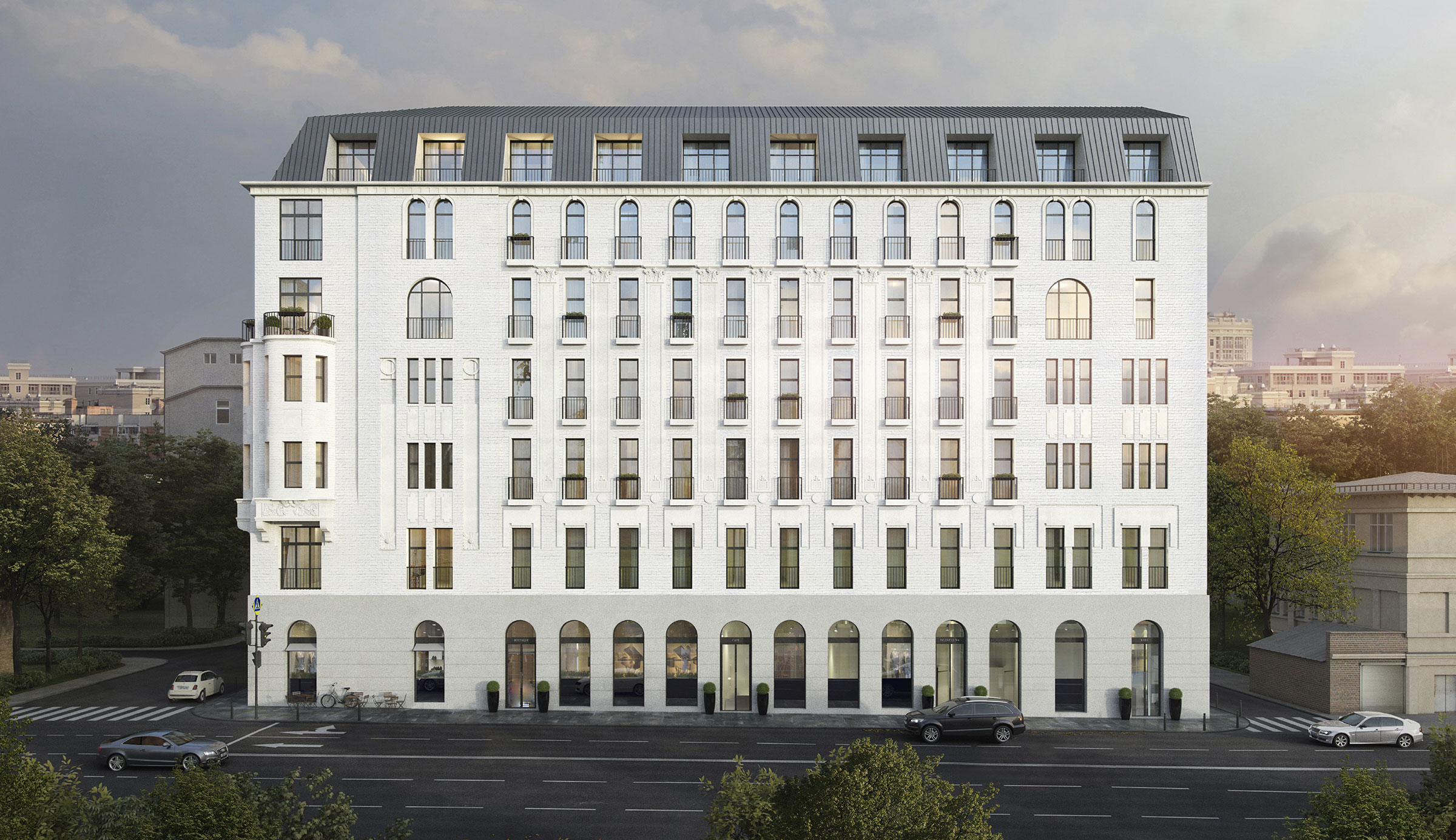 The Bunin residential complex is a benchmark project for the renovation of the former apartment building on Plyushchikha. The century-old walls now renewed using cutting-edge technologies embody true luxury for connoisseurs of Moscow's historical heritage. Bunin House has 29 decorated apartments, including three penthouses with spacious terraces.
The Bunin House location is perfect for families.
Set amongst green boulevards, quiet parks and squares and close to the Novodevichy Convent, many fine-dining restaurants and the best schools are available for the residents of Plyushchikha.
BUNIN HOUSE IS WONDERFULLY SECLUDED AMONGST THE TALL TREES OF PLYUSHCHIKHA. HERE YOU CAN HARDLY HEAR THE SOUNDS OF THE BUSY CITY. IT IS A PERFECT RETREAT FROM THE HUSTLE AND BUSTLE.
Vesper's respect for history is embodied in its renovation projects of these historic buildings. The snow-white facade of the house, with arched windows, Juliet balconies and bay windows has been the subject of the reverent attitude of a team of world experts, who have carried out this renovation on one of the greenest streets in the centre of Moscow.
Alettes in the central part, stucco rosaces, cornices and a laconic colour scheme contribute to the look of a Parisian mansion of the early 20th century.
The house has 29 apartments with French windows and Juliet balconies. Three penthouses featuring double-height living rooms with fireplaces and spacious terraces occupy the top floor, offering beautiful panoramic views of Moscow's historic centre.
Bunin House has four entrance lobbies. Each has its own unique design, reception, lift and exit to the courtyard.
The first floor of the house is decorated with terrazzo - a material consisting of the smallest elements of marble, granite and semiprecious stones, which form a unique pattern and create a captivating hue.
The number of each of the twenty-nine apartments is indicated by floor panels, hand-made from nero marquin marble, recalling the way mansions in Europe were designed in the Art Nouveau era.
The apartment doors are decorated with diamond-shaped handles, designed in a factory near Florence, and incorporating the hues of rubies and emeralds.
All apartments have marble and wood finishes and fully-equipped kitchens and bathrooms. In its renovation, Vesper has captured the spirit of the times and authenticity of the house, which was built at the beginning of the 20th century, whilst simultaneously equipping it with all the technologies needed to make life comfortable.
Timeless elegance and impeccable attention to detail are embodied in the decoration of the apartments. The house is equipped with modern engineering systems ensuring a high level of quality of life. This even includes an innovative microclimate system that creates ecologically clean air throughout the building.
Tsimailo Lyashenko
& Partners
The Tsimailo Lyashenko & Partners Architectural Bureau was founded in 2001 and is one of the top ten such ...